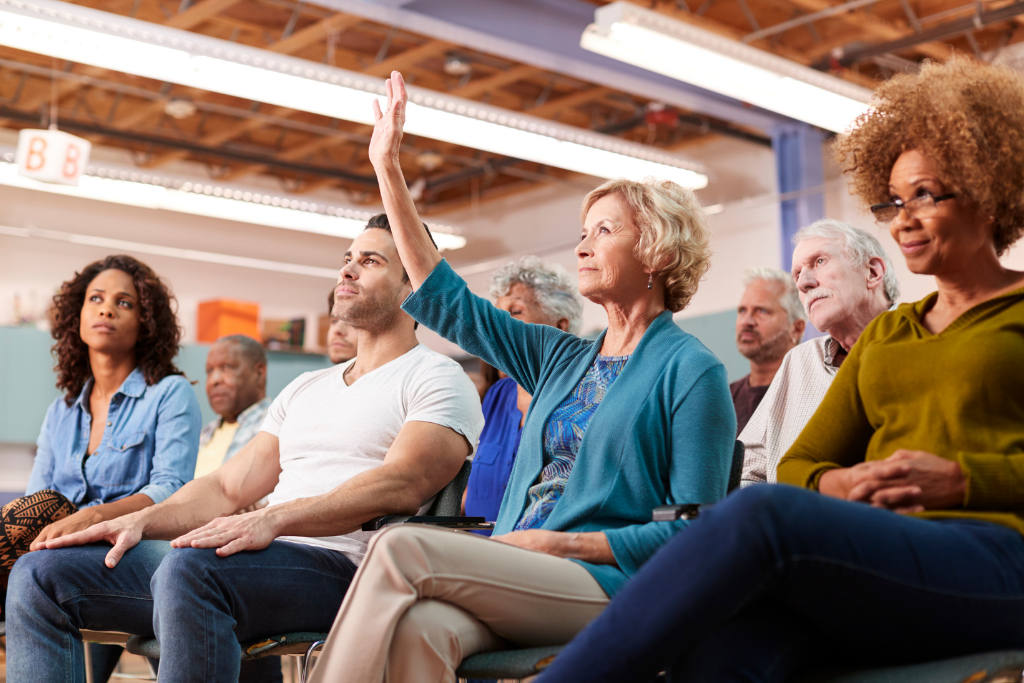 Introduction
Today's toughest social and environmental challenges can't be solved by one organization. That's why collaborative strategic planning is so important. Unfortunately, when we use the strategic planning approaches designed for individual organizations, they are not effective. Multi-partner collaborative strategic planning can have transformational impact if the right approaches are used.
We see a lot of failures in multi-partner strategic planning, such as failure to agree on shared goals, lack of ability to incorporate systems-level change, or worse-case scenario, investing months into strategic planning and ending up with goals and strategies that never get implemented.
This blog features a framework for strategic planning that encompasses increasing levels of diversity, inclusion, community engagement, and collaboration with multiple partners. The good news is that the process does not have to be all or nothing. There are ways you can gradually increase the level of community engagement and number of partners in the process.
Because here's the crux of the issue: having more partners and a more inclusive engagement makes your strategic planning process better. And, it makes your team more likely to achieve goals aimed to address complex societal and environmental problems.
The framework and examples
Figure 1 shows visual of what that gradual progression looks like, from traditional strategic planning with an individual organization to a highly collaborate, multi-partner, inclusive process that includes community engagement.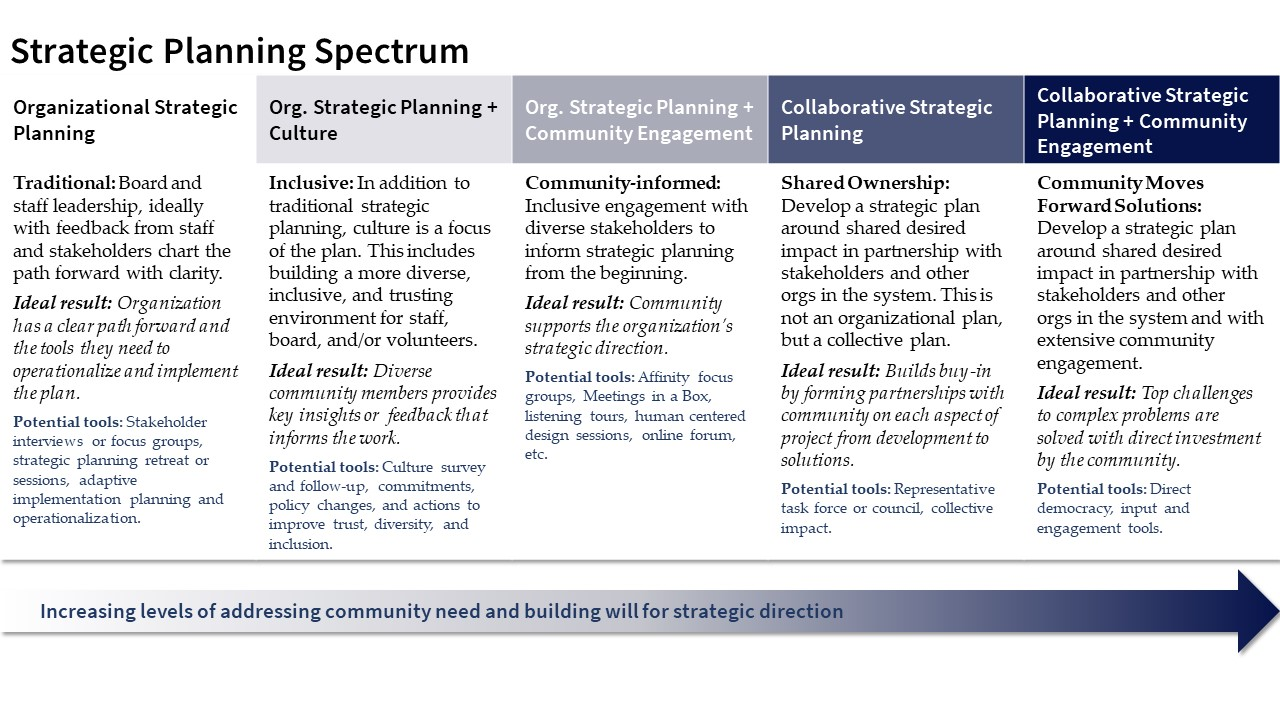 Below are two examples of complex projects. The first was a project that fits in the "Collaborative Strategic Planning" category, successfully bringing together almost two dozen partners. For comparison, the second is a project that meets all criteria for collaborative strategic planning plus community engagement).
New Jersey Measures and Monitoring Task Force for Coastal Resilience
Post Hurricane Sandy, the National Oceanic and Atmospheric Administration (NOAA) funded a team of partners based in New Jersey to develop a comprehensive guidance document on how to measure success for ecological restoration projects focused on coastal resilience. Why this was so important was that it was the first of its type to fully embed quantitative goals for nature and communities.
The project involved nearly 2 dozen organizations and exemplified a collaborative process, with opportunities for all project members to contribute to the framework, vote on metrics, and provide feedback. However, at a final presentation, a woman in the audience stated that she worked in the state's regulatory branch, and her office would not be able to adopt the framework. She explained that for a framework to be used in regulatory efforts, it would have needed to echo the definitions used by the regulators – which this framework did not.
The framework was adopted and used by many nonregulatory groups, but it was a missed opportunity to scale up the impact by having it adopted by regulators. Lesson learned: even if you think you have a diverse partner group, look harder and make sure you are not missing any crucial voices at the table.
Denver Climate Action Task Force
When the Task Force was formed, it was intentionally formed to represent diverse perspectives and community members. Over the course of about six months, an intensive series of meetings yielded consensus goals, actions, and funding recommendations. All of this was informed by nearly 5,000 members of the public through targeted focus groups, an online forum, and a dispersed engagement strategy known as "Meetings in a Box."
The team reached into communities of color, Spanish speaking neighborhoods, and those whose health is disproportionately impacted by climate. In particular, the funding recommendations were hard-fought, with many different opinions. But in the end, the Task Force reached consensus. Because of the inclusive process, community organizations normally opposed to regressive taxes like sales tax, were supportive.
As a direct result of the recommendations from the Denver Climate Action Task Force, City Council referred a ballot measure to the voters to increase sales tax to pay for climate mitigation, adaptation, and resiliency, with a focus on those communities most impacted by climate change. This is raising about $40m annually to address climate change for the city. Supporting the ballot initiative were a diverse array of organizations, including those fighting for climate equity and BP Oil.
In short, the work of the task force and the extensive community engagement built the political will necessary to pass this tax increase. The Task Force focused not on what the city could implement, but what stakeholders and community members needed. This is a profound example of how a collaborative, inclusive planning process truly can lead to transformational change.
5 tips to get your multi-partner team closer to transformational impact
Below are our favorite tips for how to think differently when strategic planning with multi-partner teams, to set the stage for having transformational impact. Keep in mind, all of these tips are based on the following foundation for a good strategic planning process that:
fosters relationships,
builds trust,
relies on data, and
has integrity.
Here are our favorite tips:
Funding, funding, funding! Funding is so important we're dividing it into two phases. First, we strongly recommend you obtain funding for the planning process. Without funding for a facilitator or project manager, the strategic planning process led only by volunteers will either drag on for years, or not be robust and substantive. Second, let's be clear: you will fail to implement your plan if you don't build into the process obtaining or dedicating funding for implementation of collaborative projects.
We know Diversity, Equity and Inclusion (DEI) is important, and that's especially true with complex projects. This may mean having a larger project team than you are used to, which takes more time in the beginning but long-term will help create stronger buy-in and greater impact. It means thinking past the traditional partners who normally get a seat at the table. Many collaborative groups fail by only having vested interests at the table as opposed to those who will be most impacted by the plan. It's important to have folks participate who will help keep everyone honest. Remember any issues around DEI can be magnified with bigger groups. Be proactive to build trust and create space for hard conversations – and double the amount of time you think you'll need to accomplish that.
Re-think how you define metrics of success. Traditionally, organizations tend to only claim success if they have led a project. When measuring success around shared goals, all organizations can claim credit for their role. Funders and Boards may not be used to this model and may need to be educated on what success looks like for collaborative efforts with multiple partners.
Align resources and staffing across multiple organizations. Many times, collaborative efforts can fail when it is largely mid-level staff attending meetings and speaking for the organization. This is because, despite their expertise, they may not have the authority to make organizational changes to align with the plan.
External pressure keeps people at the table. Make sure there is pressure to stay at the table, such as from an authority figure, the media, public engagement, and/or having a hard deadline by which the work needs to be completed.
Table of contents
Related articles