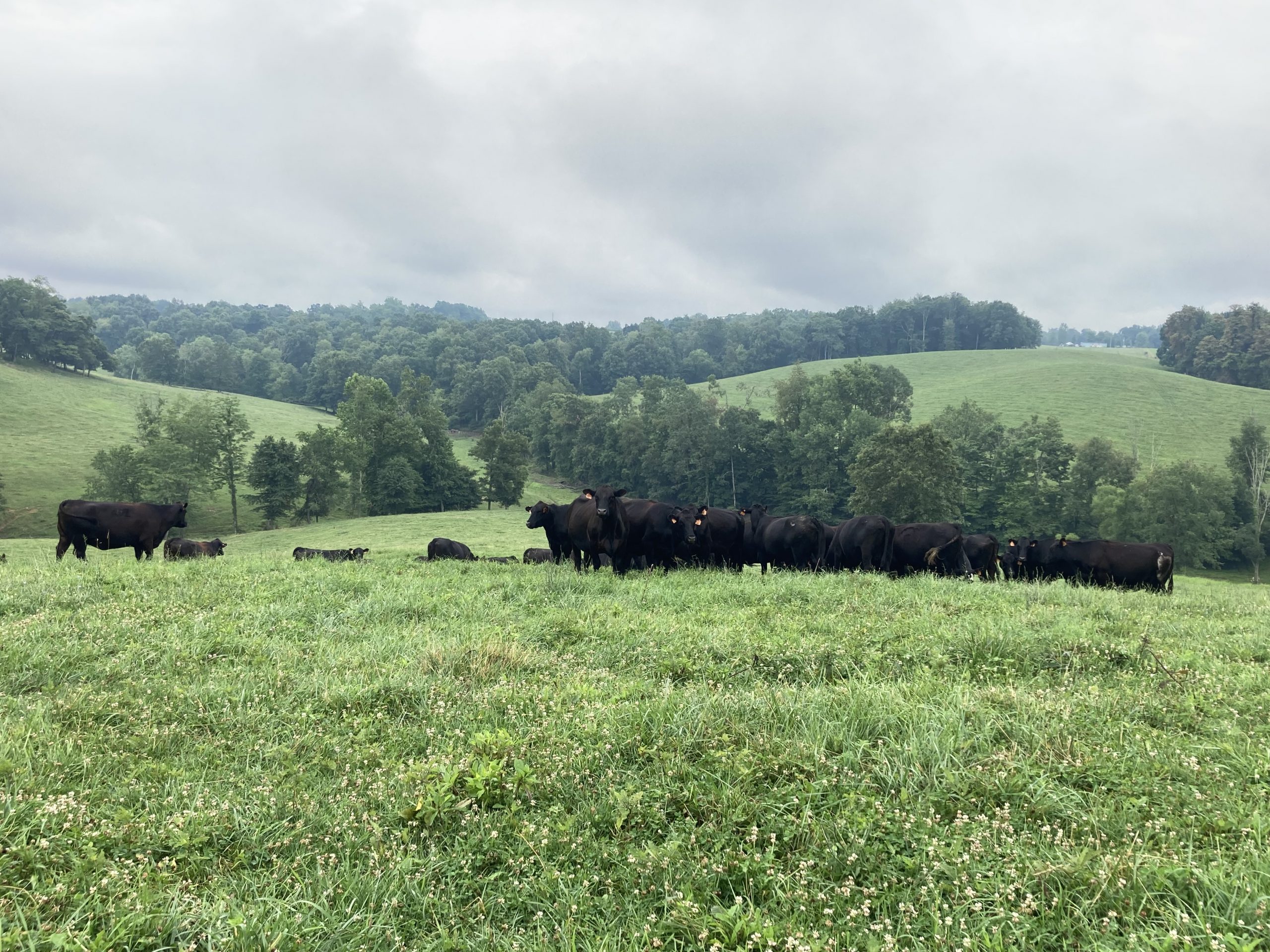 Introduction
When did you first start hearing about sustainability? For us, it was late 90s…and by the early 2000's the topic was exploding. Yet recently, many have expressed concerns that the word became overused by corporations and greenwashing was a risk. Then, add to the confusion, resilience became a hot topic, even required in many grant applications. Was resilience the new sustainability?
We are living in a world of jargon and buzz words, and in agriculture, there is a lot of debate around if words like sustainability, resilience, regenerative, or even organic have substance – or are just band wagons.
We believe it's a mistake to get rid of words like resilience and sustainability just because they have been diluted from overuse. Getting back to definitions and research around these terms leads you to actionable recommendations.
For those who work in agriculture, conservation, or who care about these topics, this blog is for you. We chose examples for agriculture and ranching because of the direct link in these systems between nature and communities. Plus, who can forget the frequency of food supply chain issues in recent years, particularly around beef production.
Sustainability vs. Resilience…and why resilience isn't just "bouncing back"
In our first blog, "WTF is Resilience anyway" we made the case that getting back to the ecological definition of resilience has practical implications for the health of our forests. We define resilience as "The ability of an ecosystem to experience disturbance and then return to its pre-disturbance condition." Agriculture also benefits from getting back to the ecological definition of resilience.
Sustainable agriculture – including ranching – is typically characterized by operations and purchasing choices that lead to positive ecological, social and economic benefits (Ahlering et al. 2021).
In contrast, resilience is about recovering from disturbance or shocks. However, it's inaccurate to frame resilience as simply "bouncing back" from shocks.
As the world has observed since the start of the COVID-19 pandemic, shocks to our food supply chains are becoming frequent. And what we're hearing from those in agriculture and food processing, they are not just aiming to bounce back. Supply chain managers are fundamentally rethinking the way that they plan for inventory. They are building in redundancy. They are building in new pathways and processes – not just bouncing back to exactly the way they operated pre-COVID-19 pandemic.
What do we really mean by sustainability?
Probably the most common definition of sustainability is still the 1987 Brundtland Commission's definition: "meeting the needs of the present without compromising the ability of future generations to meet their own needs." While this is a great starting point, it's clear that for specific fields (e.g. agriculture, manufacturing, transportation) we need a more measurable definition.
Fortunately, the recent literature on both sustainable ranching and beef fills that need by defining what metrics to be tracked and how to measure success. Previous publications overemphasized only the ecological aspects of sustainable ranching. Recent works now have included metrics for social sustainability along the beef supply chain and economic metrics for ranching, as well as a framework for showing the change in economic and social outcomes in ranching.
Resilience for beef production and livestock grazing
The concept of holistic grazing goes back 40 years by Allan Savory, Savory Institute, yet there was not much evidence backing his claims.  His work does not appear to have gone mainstream, until recently. Beef production and livestock grazing have been getting a lot of media attention, largely due to their high greenhouse gas emissions during production and, as a result, because many high-profile individuals and organizations have publicly stated eating less meat is the best thing you can do to save the planet.
In response, practitioners have rapidly pulled together the data showing that beef can actually be good for the environment: for example, this paper  found that biodiversity was higher, with lower levels of invasive plant species, in certain types of grazed wetlands. And in 2018, a team of researchers found  that rotational grazing has a positive impact on soil health.
The resilience benefits go both ways
Here's where the narrative starts getting complicated: the resilience benefits go both ways. Confusing? All that means is that ranching that includes rotational grazing can have a positive impact on ecosystem health. AND, ecological resilience in agricultural systems can result in economic and social benefits to farmers and ranchers.
For instance, a 2020 study  found that adding diversity into animal production systems was found to increase resilience both to price fluctuations and climatic shocks. Then a 2021 study showed a link between resilience to drought in rangelands and sustaining livelihoods for ranchers.
Interestingly, another team of researchers (2017) found  that using management practices that improve resilience to climate disturbances is precisely what leads to maintaining sustainability of the grazing system. Others have also shown that explicit connection between resilience knowledge and practices leading to increased sustainability (Duru and Therond (2014), Steiner et al (2014).
Keep in mind, not all ranching or beef production has a net positive impact on the planet. In fact, that's one of the main take-homes from this blog: You only get the sustainability benefits from ranching if you also include certain resilience practices.
What does all this mean in practice?
Let's simplify this even more: Resilience is about management practices, and sustainability is about measurement of outcomes. We'll show these concepts in practice through two case studies, one in Ohio and the second in Tanzania.
Case study: Local food systems in Ohio benefit from resilience and sustainability
A group of agricultural researchers and practitioners started noticing that, from a market perspective, many family farms in Ohio were stuck. They either sold their goods exclusively at auctions, or in the case of the smaller farms, were often only selling direct-to-consumer at farmers markets. This lack of product sales diversity does not give farmers many options when faced with supply chain disruptions. Indeed, in March 2020 due to COVID-19 related closures, many farmers without diversified markets were stuck with excess food products.
That observation led to a series of research and planning projects around how we can better support farmers in diversifying their outlets and giving them more options in the face of shocks.
One key finding from a farmer and food producer survey was that goals matter. The figure below shows that farmers and food producers place nearly equal importance on resilience and self-sufficiency as they do on increased profitability.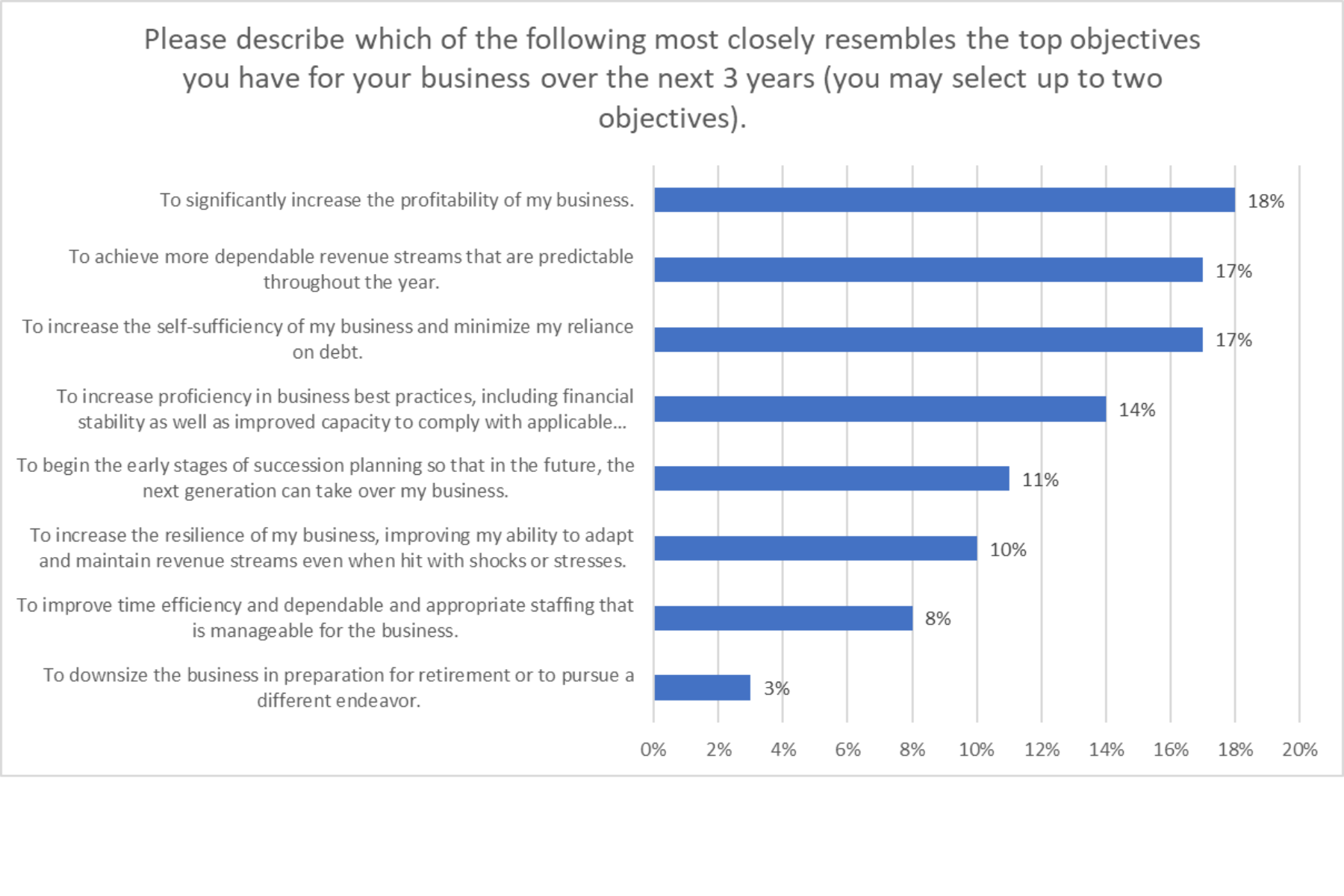 While the research is still in progress, a series of focus groups and interviews have uncovered multiple examples where food producers that have diversified either their outlets or products have had sustained income even in the face of disruption.
A very clear example of this can be see with a producer of grass-fed beef. These Ohio-based owners have diversified their products to include organic vegetables, organic corn, chickens, and beef, among other items. They practice sustainable pasture management and rotational grazing for their beef cattle. And they sell not only at the farmers market, but also at a local cooperative, through their website, and to other farmers.
As per a recent interview, that operation is growing even while other beef producers in Ohio are suffering due to long wait times with beef processors. This is a clear indicator of resilience in the face of disruption.
The sustainability components for that specific operation have not been measured, but based upon other studies of similar systems, are likely to include a range of positive sustainability outcomes.
Case study: Community-led resilience in a rural village in Africa
At a broad level, The Global Resilience Partnership advances resilience through identifying and scaling on-the-ground innovation, generating, and sharing knowledge, and shaping policy. The GRP's approach enables communities to cope with unforeseen events and transform in the face of long-lasting crises. One example is income diversification. Mashujaa is a group of women from the Tanzanian village of Uhamaka. The group organized 15 young women through a savings and credit association to raise money to invest in sunflower and maize cultivation. Unfortunately, due to climate change, production did not equate to adequate income for the participants.
Mashujaa pivoted to beekeeping as an inexpensive alternative and began producing honey shortly after a training course. They met with opposition from some community members who felt women were not fit for beekeeping. However, they kept at it, continued to produce, and are seen as role models for other women in the community.
The Mashujaa's beekeeping is a form of agroecology, which promotes conservation and preservation of biodiversity and ecosystem function integrated with agriculture. Rather than simplifying and damaging ecosystems, like industrial agriculture, agroecology focuses on regeneration of soils and traditional farming practices utilizing local farmer knowledge and experimentation. Mashujaa have demonstrated they are both resilient, for pivoting to beekeeping from cultivation and sustainable, by creating a steady income source.
Conclusion
Farmers and ranchers – and the agricultural systems they manage – benefit from both resilience and sustainability. Resilience is the process or management practice that leads to greater ability to adapt and respond to disruptions. Sustainability is more about measuring your positive impact on communities, economy, and nature. Don't throw the baby out with the bathwater: these terms still have value for farmers and for ecosystems.
Table of contents
Related articles